Drivers in California Must Give Bikes 3-Foot Buffer
September 17, 2014 -Insurance Journal
Under statewide regulations taking effect Tuesday, drivers must give bikes a buffer zone of at least 3 feet while passing.
A word from our sponsor:

Catlin US offers specialty insurance and reinsurance products to our US and Latin American client base. Both our underwriters and claims staff have extensive knowledge and experience in their target markets and focus on delivering customized and innovative solutions with a high level of service.
Cited violators will face a fine of $35, which could turn into $220 if a collision occurs in the buffer zone.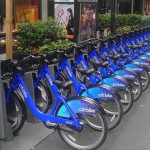 California Highway Patrol spokesman Officer Edgar Figueroa told the Los Angeles Times that officers will be watching cars and cyclists and have been trained to gauge distances by sight during their training.
Cyclists may legally use a full traffic lane on California roads but must follow the same laws as cars, including stopping at red lights and stop signs.
California is the 24th states to enact the 3-foot passing law.
Copyright 2014 Associated Press. All rights reserved. This material may not be published, broadcast, rewritten or redistributed.